1. Batters will see changeups and they will chase them. Hitters have chased 521 of Kyle Hendricks' 995 changeups out of the zone (chase rate of 52.4 percent) since the start of 2016, highest among starters (League Avg: 37.2 percent).

2. Punishing low fastballs. Anthony Rizzo slugged .876 (99 total bases in 113 ABs) on low fastballs this season (Rank: 1st of 145 full-time hitters in MLB; League Avg: .444).
3. Harper hammers the soft stuff. Bryce Harper is slugging .628 (27 total bases in 43 ABs) on non-fastballs since the All-Star Break (Rank: 4th of 159 part-time hitters in MLB; League Avg: .371).
4. Hitting the high cheese. Ryan Zimmerman has a Well-Hit Avg of .280 (26/93) on high fastballs this season, fourth best among qualified batters (League Avg: .147).
5. Cubs and Nats know how to get on base. Nationals hitters had an OBP of .372 with RISP since the All-Star Break, third best. The Cubs were one better with a .373 OBP with runners in scoring position in the second half, second best (League Avg: .345).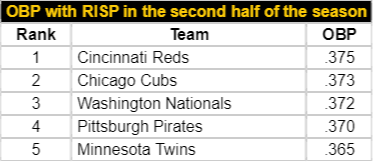 Thanks for visiting!  For more information on Remarkable, click here: inside-edge.com/remarkable
And, you may also enjoy what we're posting over on Twitter: @InsideEdgeScout

photo credits Icon Sportswire
http://www.iconsportswire.com/home