At home, the Dodgers always find a way.  
In home games when their opponents have scored three or more runs in an inning, the Dodgers have have still managed to win 54.5% of the time (12/22) this season (Rank: 1st of 30 in MLB; League Avg: 27.9%).

When J.D. Martinez gets to a lefty, he gets to him good. It may be a surprise to collect two hits in a game against Clayton Kershaw, but for Martinez, the fact that one of them was a HR was nothing new.
Martinez has 23 Extra-Base hits out of 35 total hits (65.7%) versus LHP this season (Highest rate in MLB by over 7%).
Javier Baez swings at nearly everything.  
Even when he's been ahead in the count over the last month, Baez has chased 69.2% (18/26) of pitches out of the strike zone (over 12% more often than any other player this month).
Against lefties, Goldschmidt rakes

and

runs. It probably isn't surprising that Paul Goldschmidt has the

best OBP in the Majors

against LHP over the last two years, but did you know that when lefties are on the mound he ranks up there with top base stealers like Billy Hamilton?
The Nationals rake at home better than any team not named the Rockies. Playing 81 games at Coors Field helps make the Rockies untouchable in this category, but aside from them, the Nationals hit

eight points better

at home than any other team.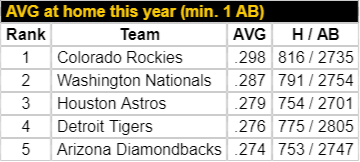 Thanks for visiting!  For more information on Remarkable, click here: inside-edge.com/remarkable
And, you may also enjoy what we're posting over on Twitter: @InsideEdgeScout

photo credits Icon Sportswire
http://www.iconsportswire.com/home