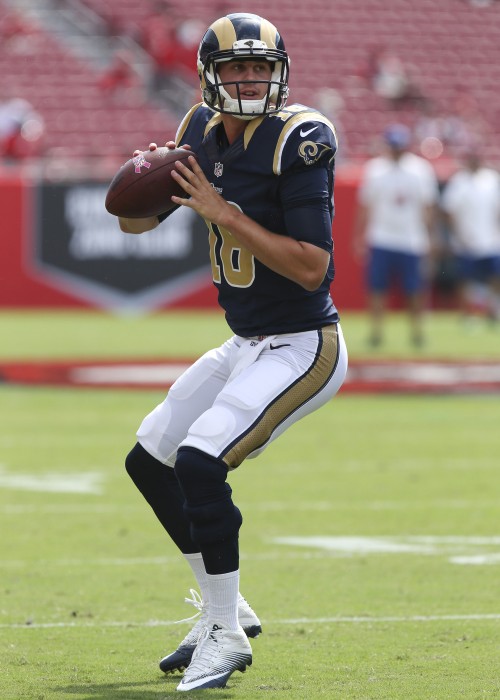 The Los Angeles Rams head to Santa Clara tonight to clash with the San Francisco 49ers in a battle of NFC West foes. The Rams come in with a 1-1 record and a three-way tie for first place in the West. The 49ers battled Seattle tough last week, but dropped to 0-2 on the season. We now look ahead and turn to Remarkable! to see what it has to say about tonight's matchup.
Quarterback
Jared Goff was a controversial first pick in the 2016 draft. Now, a year removed, Goff has grown into leading the Rams at a key position. In Week 1 he showed poise and threw for over 300 yards against a depleted Indianapolis Colts. He did not have the same ability in Week 2, but there are positive signs with his progression. Through two weeks, Goff completed 66.7 percent of passes compared to 54.6 percent last season. Goff is also extending the field. Last season, Goff threw 5.3 yards per attempt. Now, Goff is firing the ball 9.8 yards per attempt downfield. With more weapons on offense and a year under his belt, the Rams starting quarterback is starting to fill the potential a number one pick holds. 
The grizzled veteran, Brian Hoyer, leads the 49ers on the field in the 2017 season. Hoyer threw for only 99 yards in a 12-9 loss against Seattle last Sunday. Seen as a game manager, Hoyer will need to limit his mistakes. Through two weeks, Hoyer has thrown two interceptions to zero touchdowns. He is only averaging 7.5 yards per completion (YPC) this year, down from his career 11.8 YPC. When playing with the Chicago Bears last season, Hoyer did not turn the football over in the Red Zone in 30 attempts, T-best in the NFL.
Running Back
Todd Gurley is the most important offensive weapon for the Rams. Gurley can run the ball well and can catch balls out of the backfield with ease. Last season, the Rams feature back broke 22 tackles, fourth among running backs. Since he broke so many tackles, Gurley gained 587 yards after contact last season, seventh most among running backs. In two games this year, Gurley has averaged 52 yards through the air with one touchdown reception. He leads the Rams with three touchdowns this season and is close to his total of six from the 2016 season. Will he reach that total tonight?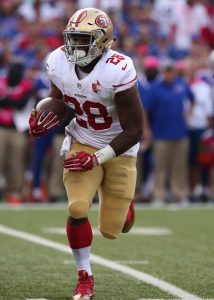 49ers Carlos Hyde has been off to a fast start. Among qualified RB's, Hyde is second in the league with 7.0 yards per carry, capped off by a 61 yard run last week. Last season, Hyde was strong running to the right side, averaging 8.1 yards per carry, best in the NFL. Not everything is perfect with the 49ers running back. Hyde fumbled four times on 217 carries last season, third most in the NFL. Nonetheless, the 49ers have relied on Hyde in the past and will likely do so in this Thursday night bout.
Wide Receiver
After five successful seasons with Washington, Pierre Garcon is now Brian Hoyer's number one target on the 49ers. Through two games, he's been targeted 15 times. When a ball was thrown in Garcon's direction last year, he was one of the best at hauling them down. Garcon caught 79 of 114 passes when targeted (69.3% Reception Pct) last season, 10th best in the NFL. The second wide receiver target for Hoyer is Marquise Goodwin. With the Buffalo Bills last season, Goodwin reached new heights with a career high in receptions (29) and yards (431). A former Olympic long jumper, Goodwin has some of the best athleticism in the NFL. That hasn't transferred to on field success yet. In two games with the 49ers, Goodwin has been targeted 12 times. If he gets targeted tonight, except it to be deeper downfield.
The Rams were busy in the offseason, adding the Buffalo Bills two top wide receivers in Sammy Watkins and Robert Woods. The former was picked up after training camp began in a trade for E.J. Gaines. Watkins is very effective when he's on the field, but his issue is health. Watkins missed eight games last season and was never completely healthy for the Buffalo Bills. This season, Watkins has been targeted seven times and he's caught every single ball. Cooper Kupp is a welcome surprise for the Rams this season. Kupp, a third-round pick out of East Washington, has led receivers with 109 yards through two games. Goff has targeted Kupp with the most frequency in his overabundance of options. Watkins and Kupp are big options for Goff, but he has an even bigger option at tight end.
Tight End
George Kittle, a fifth-round draft pick out of Iowa, is the tight end of choice for a rebuilding 49ers team. Kittle has caught seven balls on eight attempts this season. Offensive upside is a positive for tight ends, but much of their job is being another lineman to help the running game. In his college career, Kittle had career highs in receptions (22) and yards (314) his senior season.
Gerald Everett is another young playmaker for a young Rams team. Everett has only been targeted and caught four passes, but he has the most receiving yards on the Rams (134). In college, Everett was an offensive threat, gaining 717 yards his senior season. He hasn't found the endzone yet in his two-game career, but expect another big night from the tight end.
Defense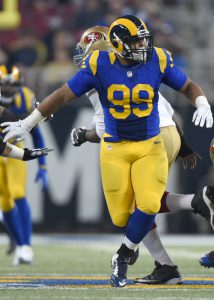 Aaron Donald made his way back to the Los Angeles Rams in Week 2. He had two tackles, one for a loss against Washington. A defense is more than one person and there are some weak points for Los Angeles. Rams defensive backs missed 83 tackles season, most in the NFL. Despite all those missed tackles, the Rams tackled opponents for a loss on 74 of 409 rushing attempts (18.1 percent) last season, fourth best in the NFL.
Last season, the 49ers defense gave up the most points to opposing offenses. Teams liked to run against San Francisco, averaging 33.1 carries per game last season, highest in the NFL. When opposing running backs found open space, 49ers defensive backs only missed 35 tackles last season, T-second fewest in the NFL. Teams attacked San Francisco on the ground, but opposing offenses also found success through the air. The 49ers allowed 30 touchdowns on just 322 completions (10.7 Completions Per TD) last season, second worst in the NFL. 
The 49ers and Rams are younger teams trying to find their identity in the NFC West. The Seahawks and Cardinals have struggled out of the gate and the Rams might be poised to take the next step as early as this year. They will rely on Gurley and Goff to lead them on offense. Aaron Donald, in his second game back in 2017, will be a force in the middle of the field on defense. Carlos Hyde leads the way for San Francisco. Who will win? Find out tonight!

Thanks for visiting!  For more information on Remarkable, click here: inside-edge.com/remarkable
And, you may also enjoy what we're posting over on Twitter: @IE_NFL

photo credits Icon Sportswire
http://www.iconsportswire.com/home