We are in the home stretch of the 2017 MLB season, and with the playoffs on the horizon, some matchups are heightened. Today, with the help of Remarkable!, we preview this weekend's three-game series between the Milwaukee Brewers and Chicago Cubs.  A series with playoff implications on the line!  The Cubs carry a five game lead in the division, but Milwaukee is just three games out of the second Wild Card spot heading into the weekend….
Game 1 Nelson vs. Lackey

Nelson
Jimmy Nelson has turned into the ace that the Brewers need and he will need to put in a positive performance as the Brewers continue to slip in the NL Central standings. Remarkable! tells us that Nelson's strikeout rate is 27.2 percent, up from 17.4 percent last season. His breaking ball and 2-seamer combo lead to many swings and misses and weak contact. Hitters have chased 36 percent of fastballs in off the plate (9th best in MLB) and opponents have a well-hit average* of just .066 (4th lowest in MLB) against Nelson's curves and sliders. Not everything is positive for Nelson this year, as he has struggled in recent starts. Nelson has allowed an OBP of .564 over the last 30 days, second worst in the MLB.
*Well-hit average explains how hard a ball is hit. Each ball in play is rated by Inside Edge scouts. A well-hit ball is defined as being struck on the barrel of the bat with a high exit velocity (for that player) and a good trajectory. A well-hit ball can be a groundball, line drive, or fly ball.
Lackey
While John Lackey has had his struggles this season, he has improved of late and the Cubs have won 9 of the last 10 games he has started. Look for the Brewers to attack early in the count, as opponents have swung at 35 percent of first pitches against Lackey since the start of 2016. This swing rate has helped him get ahead in counts, which has resulted in zero walks to right-handed hitters in their last 39 plate appearances against him. Unlike his counterpart on Friday, opponents can elevate against Lackey's pitches as he ranks 124th of 128 qualified SPs in MLB in inducing ground ball double plays–just 1 in 41 opportunities since the All-Star Break. This extreme flyball pitching method has left him susceptible to home runs, leading the NL with 32 bombs surrendered.
Game 2 Anderson vs. Montgomery
Anderson
Chase Anderson has made four starts since coming back from an oblique injury and he's performed admirably in each of those starts, but he hit a rough patch in his last outing (four runs in 5 ⅓ innings). Along with Nelson, Anderson has emerged as a top end pitcher for Milwaukee. Anderson has allowed an OBP of just .254 with RISP this season, 11th in the Major Leagues. Once hitters have two strikes, they have an OPS of .418 against Anderson, 17th lowest in the MLB. When going through the heart of the order, Anderson has allowed a slugging percentage of .259 in his last four starts. This is in part due to Anderson's changeup, which opponents are hitting .180 against, 15th best in the MLB.
Montgomery
The Cubs turn to valuable swing-man Mike Montgomery in game 2, as he looks to provide another quality outing on the mound. Unlike Lackey, Montgomery induces ground balls at an extremely high rate: opponents have a groundball rate of 62.1 percent (110/177) in Montgomery's starts this season ranking 5th of 165 qualified starters. He pitches to contact, especially against lefties as they have missed with 6.8 percent of swings since the All-Star Break, the lowest rate among 177 qualified SPs in MLB. While Montgomery hasn't showcased a great put-away pitch, he has not allowed hard contact with two strikes. Over the last 30 days, opponents have not hit a ball hard — Well-Hit Avg of .000 (0/26) — with two strikes against him, tied for best among 148 qualified starters.
Game 3 Davis vs. Hendricks
Davies
After struggling to start the season, Zach Davies has shut the door for the Brewers. He had a 2.06 ERA in the month of August and continued with a strong first performance in September. He's kept the baseball in the ballpark, not allowing a homerun in his last seven games. Davies has only walked two right handed batters (2.4 percent) in the last 30 days, 13th in the MLB.  Right handed hitters also struggle getting the ball off the ground. Davies has a groundball rate of 61.1 percent over the last 30 days, 13th in the MLB. Much like his rotation mate Chase Anderson, Zach Davies thrives on his changeup. Hitters have chased 297 of 608 changeups out of the zone (48.8 percent chase rate), 3rd in the MLB.
Hendricks
2016 breakout star Kyle Hendricks gets the ball for the series finale Sunday. Hendricks has been stingy since the All-Star Break, allowing a miniscule .184 OBP with RISP in that time, best among 144 qualified starters. Even when runners do reach base, they are in danger against the righty. He leads the majors with 9 pick-offs since the start of 2016. Not only does he keep runners on their toes, he's particularly adept at keeping hitters off balance. He has thrown his changeup 61.4 percent of the time with two strikes over the last 30 days, 1st of 69 qualified SPs in MLB (League Avg: 21.0%). The pitch has proven its effectiveness as he has recorded 34 of his 45 strikeouts (75.6 percent) with it since the All-Star Break (Rank: 1st of 49 qualified SPs in MLB; League Avg: 22.4%).
Let's talk about offense and bullpens. Here are some quick notes Remarkable! provided about the two teams:
Cubs Hitters — Sporting a Bearish Offense in the second half
Cubs hitters are slugging .489 (623 total bases in 1,275 ABs) versus RHP since the All-Star Break (

Rank: 1st of 30 in MLB

; League Avg: .429).


Chicago has answered-back in 37.4% of innings after an opponent scores (43/115) since the All-Star Break (

Rank: 1st of 30 in MLB

; League Avg: 28.2%).
Ice Cold Brew Crew
Brewers hitters have an OBP of just .303 since the All-Star Break (

Rank: 28th of 30 in MLB

; League Avg: .327).
Brewers hitters have struck out 496 times in 1,805 PAs (27.5%) since the All-Star Break (

Rank: 30th of 30 in MLB

; League Avg: 21.5%).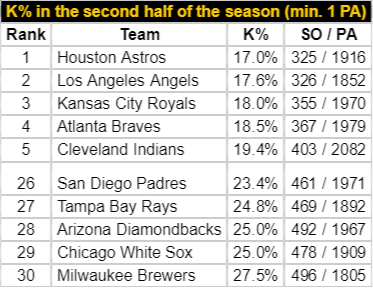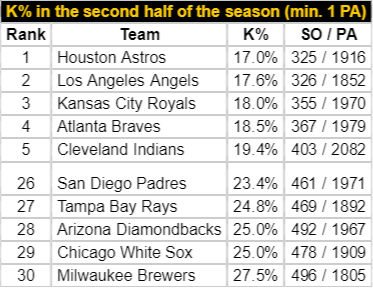 Cubs Pen
Cubs relievers have stranded 36% of inherited runners (76/211) this season (

Rank: Tied 3rd of 30 in MLB

; League Ave: 30%).
Wade Davis has a strikeout rate of 46.0% (23/50) with RISP this season (

Rank: 5th of 212 qualified RPs in MLB

; League Avg: 21.7%).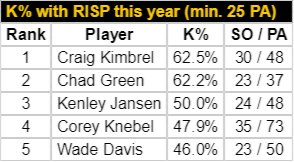 Cubs relievers have walked 89 of 704 batters (12.6%) since the All-Star Break (

Rank: 30th of 30 in MLB

; League Avg: 9.2%).
Brewers Pen
Brewers relievers have a strikeout rate of 26.2% (184/701) since the All-Star Break (

Rank: 4th of 30 in MLB

; League Avg: 23.0%).
Corey Knebel has a strikeout rate of 41.3% (109/264) this season (

Rank: 4th of 247 qualified RPs in MLB

; League Avg: 23.3%).
Opponents are hitting .213 against Brewers relievers (64-for-300) over the last 30 days (

Rank: 4th of 30 in MLB

; League Avg: .249)

Thanks for visiting!  For more information on Remarkable, click here: inside-edge.com/remarkable
And, you may also enjoy what we're posting over on Twitter: @InsideEdgeScout

photo credits Icon Sportswire
http://www.iconsportswire.com/home